Garmin Fénix 5X Plus Sapphire, black with black band
Last items in stock
VAT included
GIFT silicone case!!!! The Garmin Fenix 5X is the multisport GPS watch for athletes and adventurers. It is the first watch in the fēnix series to offer full-color maps of Europe for at-a-glance control of your location and navigation.
Get more out of your training session
GPS multisport watch with pre-installed full-color TOPO maps of Europe and navigation features
Comfortable and robust stainless steel design with EXO™ antenna, forged steel back and sapphire glass for the best resistance in the most demanding environments
With pre-installed activity profiles for all your sports and adventures and heart rate via the Elevate™ wrist
Enjoy key statistics at your fingertips thanks to the performance widget, which shows the effect and progress of your training sessions
Among the online functionsSmart notifications, Wi-Fi for automatic uploads to the virtual sports community are included Garmin Connect™ and customization options with free watch faces and apps from our Connect IQ™ store
With sensors for outdoor activities, including GPS and GLONASS satellite positioning, barometric altimeter and 3-axis compass with gyroscope.
Battery life: up to 12 days in smartwatch mode (depending on configuration), up to 20 hours in GPS mode or up to 50 hours in UltraTrac™ power saving mode.
Impressive design and powerful performance
fēnix 5X is the watch with a 51 mm diameter and the most advanced set of navigation and training functions. fēnix 5X features a rugged design and quality finish thanks to a stainless steel setting with EXO™ antenna and a forged steel back that ensure high performance in the most demanding environmentswith water resistance rating up to 100 meters.Fēnix 5X satisfies both your aesthetic and athletic interests.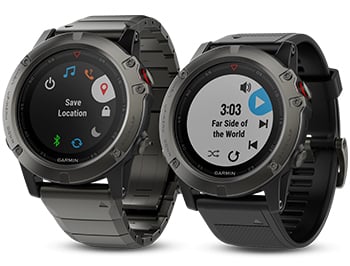 A full-color topographic map to the finish line
Whether you're in the city or on a trail, the fēnix 5X watch's wide variety of maps and navigation features will help you get your bearings and stay on track at a glance.
Includes pre-installed full-color maps of Europe; map data has been optimized for at-a-glance navigation and location tracking on the wrist
Round-trip routing options offer runners and cyclists the ability to enter the distance they wish to ride and the watch will suggest suitable routes
Easy to read directions provide on-screen information showing upcoming turns
Around Me map mode displays nearby locations in a simplified graphical interface that improves situational awareness and increases ease when you are exploring unfamiliar environments
Data overlays on the map highlight key information so you don't have to switch screens during an activity
GroupTrackAllows you to keep track of your companions on adventures such as water skiing, while LiveTrack allows your friends to follow your adventures in real time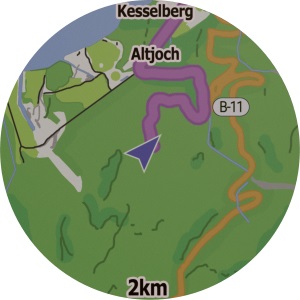 Exceptionally comfortable reading on the go
One screen Garmin Chroma Display™Fēnix 5X features a 1.2" display with transflective technology that reflects and transmits light while making the watch's screen even more legible in bright sunlight. To ensure durability in harsh environments, this sports watch offers a high-quality scratch-resistant sapphire lens.
Wrist heart rate sensor
1
To provide the ultimate freedom for ambitious athletes, all fēnix 5 models feature Elevate wrist heart rate technology, which allows you to monitor your heart rate without wearing a chest strap. With the new fully integrated Elevate™ sensor on your wrist, you can monitor the intensity of your workout at any time and track your daily activities with continuous heart rate monitoring for more accurate information on calories burned throughout the day.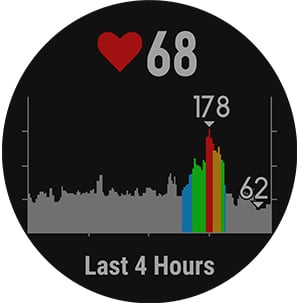 Interchangeable straps to suit your style
A selection of QuickFit straps to choose from premium leather, metal or silicone to make it easy for you to match your style when doing sports or any other activity. No tools are needed to make the transformation. Just change it, click and you're ready to go.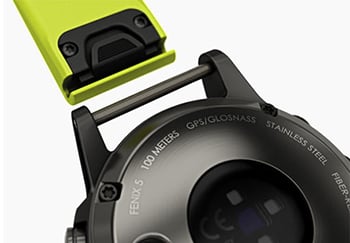 Everything you need to know about your training
Your aspiration to get better and better drives you to train for hours on end. The newperformance widgetOf the fēnix 5X contains all the information you can easily access in one place, to improve your fitness tracking and to help you train more effectively.
Training status: indicates the effectiveness of your training and provides indications as to whether your training sessions are productive and is reflected in the results.
VO2 max estimation: processes running and cycling data to make an estimate of your maximum oxygen consumption per minute and indicates your fitness level.
Training load: indicates the intensity at which you train over a period of time regardless of the activity.
Recovery control: with the recovery timer that tells you the recommended recovery time based on your last training session.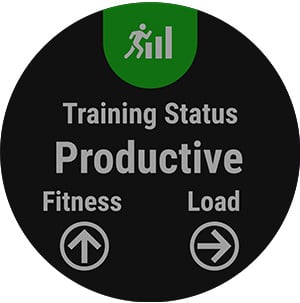 More advanced indicators, such as functional power threshold (FTP) and lactate threshold, will help you better appreciate your actual performance level in cycling or running activities; the race forecast calculates the ideal finishing time for a 5K, 10K, half marathon and marathon race based on your current VO2 max figure. Training Effect 2.0 will give you more than just aerobic and anaerobic benefit scores, so you can see if your high-intensity interval training is really working.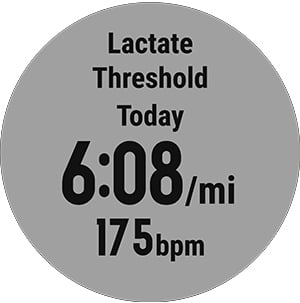 Intensify your career
Now you can go further thanks to running data. The training functions of Garmin, which are based on extended physiological metrics and advanced running dynamics1, can help you improve your fitness and overall performance. These metrics include performance condition, which compares your actual performance condition to your average fitness, running cadence and stride length. Turn every run into a personal challenge: compete with others on Strava Live Segments, get alerts when segments start and end, view leaderboard positions and compare your current effort to your personal record.
Once paired with a compatible chest heart rate strap, such asHRM-Run™,You will be able to access metricsAdditional features of fēnix 5X, such as stress scoring to calculate the actual stress level based on heart rate variability, oscillation and vertical ratio, as well as ground contact time and balance to make your running more efficient.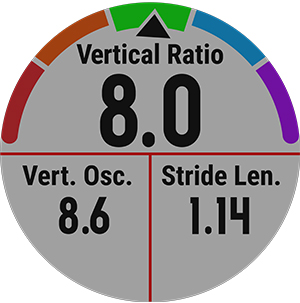 Trail Running
fēnix 5X includes built-in features that make a difference during the run. Auto Climb/Run ensures you have the right metrics in the right environment. This feature tracks pace and distance when you're running on flat terrain, and automatically switches to cumulative ascent and vertical speed as soon as you start climbing. Use the detailed TOPO maps for better situational awareness in alpine environments. For ultramarathon runners, fēnix 5X features a special mode that allows you to extend your tracking up to 100 h with the new UltraTrac®* mode with gyroscope.
Complete for any sport
fēnix 5X is the perfect companion for multisport athletes. Use the swimrun or triathlon specific activity profiles, or create a multisport profile to suit your training routine or race day. Easily switch from one activity to another at the touch of a button to make sure all your training laps are taken into account.
The watch for all types of sports
Beyond its running functions, fēnix 5X watches also offer a suite of special functions that cater to cycling, swimming, skiing, golf and paddle sports activities, including paddle surfing and rowing. For cycling activities, fēnix 5X calculates cycling speed, distance and dynamics once linked to a power meter, and for swimmers, the device tracks distance, stroke count and more. Ski/Snowboard mode gives you information on speed, distance, elevation gain and an automatic run counter. Paddle sports features include stroke count, stroke speed and even distance per stroke. Golf mode provides distance in yards to the front, back and center areas of the green for any of the courses downloaded fromGarmin Connect, the new features of the course include a new golf course, as well as improvements such as statistics tracking (fairways hit, etc.), green view, AutoShot detection and automatic calculation.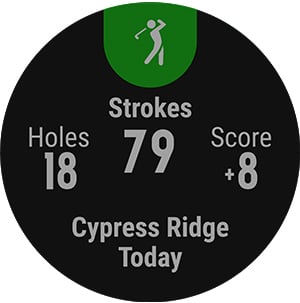 For cyclists, fēnix 5X also offers cycling-specific routes and is compatible with thevaria line™Varia rear-view radar, Varia Vision displays and Varia Vision™Wearable as an aid to better know the situation on the road.
Explore nature your way
fēnix 5 guides you safely on and off the beaten track by combining GPS and GLONASS positioning, advanced sensors, and the familiar navigation features of Garmin, such as TracBack™. To provide the most accurate information, the device automatically calibrates its sensors via GPS. The built-in altimeter provides altitude data to accurately monitor ascents and descents, while the thermometer and barometer can be used to predict weather changes by showing short-term changes in air pressure. The three-axis electronic compass keeps you on course whether you're moving or not.
A multitude of possibilities to stay connected
All fēnix 5 series models support smart notifications when paired with a compatible device. You can receive emails, text messages and alerts directly on your watch. Another new feature of fēnix 5 is GroupTrack, which allows you to link your device through the Garmin Connect™ so you can keep track of your connected partners and they can keep track of you when you get separated during an activity. Other connectivity features include automatic uploads to Garmin Connect via Wi-Fi, real-time tracking and sharing on social networks through our free applicationGarmin Connect™ Mobile
Custom applications and displays for the watch
You can customize your fēnix 5X watch with free downloads from our storeConnect IQ. Change the clock display, add data fields or download apps and widgets that provide information at a glance. Garmin works in continuous collaboration with leading companies and developers in order to bring even more value to your fēnix multisport watch. Companies like Uber, Strava, AccuWeather and many others offer apps and enhancements that allow you to customize your fēnix 5X to fit your lifestyle like never before.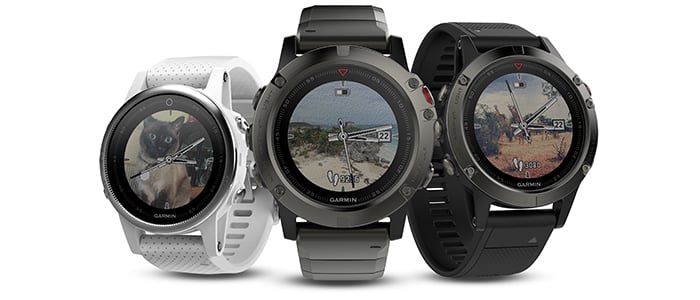 Show your personality on your wrist
You can also download the clock screen applicationGarmin Face It™To customize your fēnix 5X with any photo from your smartphone. Just download the app, choose an image from the photo gallery, select a time style and set the result as your watch face. Whether it's a panoramic view of your latest hiking session or a photo of your new dog, with Garmin you can add personality to your watch to make it as unique as you are.
Running power
Add power data to your training by downloading our Running Power application from the storeConnect IQ™On your compatible watch. The application Garmin Running Power, developed in Garmin Labs, uses metrics such as pace, vertical oscillation, gradient and even local wind conditions to determine the amount of power you apply to your stride while running. Knowing how much power you're using minute by minute and mile by mile allows you to pace yourself so you don't tire too quickly. The best news? If you already have the devices Garmin adding power to your career will be free of charge. All you need is your fēnix®5/fēnix 5S/ fēnix 5X, fēnix Chronos, Forerunner®935 and one of these three accessoriesHRM-Run™,HRM-Tri™ORunning DynamicsPod. Visit the page ofRunning ScienceFor more information.
1Activity monitor accuracy
When paired with a compatible phone
When paired with a heart rate monitor. Included with some models and sold separately on others
If paired with a compatible smartphone - GroupTrack can track up to 50 people.
Wi-Fi® is a registered trademark of Wi-Fi Alliance. App Store is a trademark of Apple Inc. Google Play is a trademark of Google Inc.
*The UltraTrac feature is a GPS option that allows you to record track points and sensor data less frequently. Enabling the UltraTrac feature increases battery life, but decreases the quality of activity logging. It is recommended to use the UltraTrac feature for activities that require longer battery life and for which frequent sensor data updates are less important.
Gender

Man

Style

Deportivo

Brand

Garmin

Model

FENIX 5X Plus Black Sapphire with black strap

Case Diameter (in mm)

51

Box height (in mm)

17

Box

Fiber-reinforced polymer with metal back cover

Crystal

Sapphire

Mechanism

Digital Quartz

Functions

See "MORE INFORMATION" tab

Strap

Black silicone strap (Quickfit 26 mm)

Water Resistance

10 ATM

Official Warranty

2 years

Strap's Colour

Black

Presentation

Case Garmin
16 other products in the same category: